SMILE CREATIONS
Rating: 5


Review By Lauren S.
I have finally found a great dentist! I didn't even feel the dreaded shot. Dr. Carrington explained everything to me and made sure that I was okay throughout the procedure.
One of the implications of losing a tooth is the resorption of bone beneath the area where the tooth used to be. This is significant because bone is necessary for tooth stabilization and facial support. If a dental implant is the desired method of tooth replacement, healthy bone is needed. Because bone loss is a natural consequence of tooth loss, the sooner we can place a dental implant, the better. Dr. Carrington has the extensive training that enables her to address the needs of patients who have insufficient bone structure to support implants.
The overall success of dental implants depends on bone quality. Just like your natural teeth, your implants require sufficient bone for stability.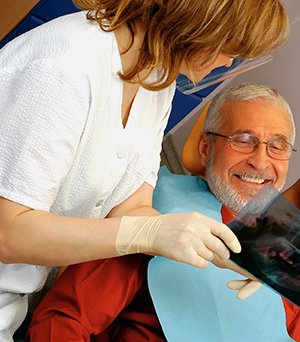 When bone grows around the implant post, the integrated structure can be expected to last a lifetime, looking and feeling just like a natural tooth. Historically, extensive bone loss would exclude a patient from dental implant treatment.
In order to achieve the best result from dental implant treatment, Dr. Carrington may suggest bone grafting.
Bone grafting assists in the placement of dental implants by building up bone tissue or modifying the ridge of the upper or lower arch. The procedure may involve the insertion of the patient's own bone, harvested from another area of the body. Synthetic material may also be used. In either situation, the treatment will prompt the regeneration of bone tissue. After a few months, there should be sufficient bone structure to support dental implants.
We understand that bone grafting can sound somewhat frightening. Dr. Carrington assures her patients that their treatment process will be handled with the utmost care. Building up bone tissue is an important step in the success of tooth replacement with dental implants. Many patients today would prefer to avoid wearing a denture forever. The scientific and technical advances that have been made in implant dentistry have made it possible to restore what has been lost – including bone.
Recreate your smile beautifully with dental implant treatment in Covington. Call Smile Creations today.