SMILE CREATIONS
Rating: 5


Review By Cristina V.
All of the staff were very engaging and friendly, and the general atmosphere was overall pleasant and comforting. The Doctor here was very understanding and willing to work with me on finances; which is greatly appreciated! It was definitely one of my more favorable dentist visits. I'll be returning to them from now on, and refer any of my friends in need of a dentist, as well.
Dentures have long been the primary method of partial and complete tooth replacement. However, many people may have an inaccurate perception of dentures. Over the last several decades, the way that dentures are designed and made has improved significantly. Those that are made today not only look much more natural than those our grandparents wore, but they tend to function better, as well.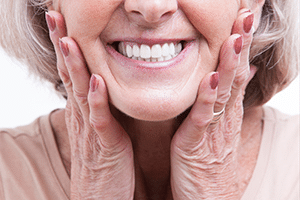 Partial and full dentures
Dr. Carrington can address tooth loss with partial or full dentures. The partial denture is a fixture with a number of artificial teeth. This restoration is stabilized through attachment to natural teeth via a clasp. A full denture replaces all teeth in the upper or lower arch. Standard dentures are stabilized through suction between the resin base and the gums. Some patients enhance this with denture adhesive. For the ultimate stability and sense of confidence, patients should consider an implant-supported denture.
A traditional denture is a removable fixture that requires special care. When the denture is not being worn, it needs to be kept moist. This is why you may remember seeing Grandma's dentures in a glass of water by her bedside. Although dentures are made from quality materials that will not decay, it is important that they be cleaned on a daily basis to prevent the accumulation of bacteria.
In addition to traditional denture treatment, Dr. Carrington provides immediate dentures, implant supported dentures, and denture relining. Attentive to patients' feelings of self-esteem, Dr. Carrington makes sure that no time is spent without the appearance of a healthy, attractive smile. When you visit Smile Creations for dentures of any kind, you will go home with either a temporary or your final restoration so that you can feel confident in your appearance.
Denture treatment can be a viable solution for partial or complete tooth loss. In our Covington dental office, we provide you with the information you need to choose the form of tooth replacement that is suitable for you. Schedule your visit to learn more. 770.786.2754.