SMILE CREATIONS
Rating: 5


Review By Bernice D.
I was driving around looking for a dentist and another dentist very close by, recommended Dr Carrington and I am so happy that he did !. This place is truly a blessing. Thank you Dr. C. you and your team are truly a team, I'm grateful for you guys, my experience was truly amazing. You surely do have the fitting name for your business. The attention, the care, the after service. Thank you!
Dental crowns, known as "caps," have been a long standing restorative dental procedure. Over time, this method of restoring teeth has evolved thanks to the development of more durable, lifelike dental materials. Covington dentist Dr. Carrington provides non-metal crowns that look so natural no one see them.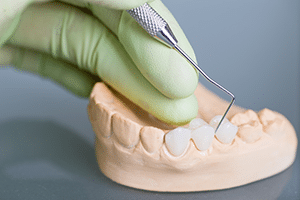 Protecting a tooth with a crown
The primary purpose of crowns is protection. Teeth are subjected to a great deal of force when chewing. This is necessary to break down food for digestion, but can be stressful if tooth structure has been weakened. If a tooth has been damaged by a large cavity or a break, the best way to prevent further damage may be to cover the entire surface with a crown. Once bonded over the tooth, the crown will act as a shock absorber to chewing force.
Crowns are also necessary restorations for replacing missing teeth. In a fixed bridge, crowns anchor the artificial tooth to the teeth that will stabilize the full restoration. Fixed bridges are made in a dental lab, where an artificial tooth is fused to the anchoring crowns. The completed restoration is bonded into place for a stable, functional bite. Dental implant treatment also requires final restoration with a customized dental crown to restore the look and feel of a natural tooth.
Not every situation requires extensive restoration with a crown. When appropriate, Dr. Carrington will repair damage using a durable inlay or onlay. These restorations could be described as partial crowns, as they cover a larger portion of tooth structure than a filling. An inlay is intended to restore the chewing surface inside the points of a tooth, known as cusps. Onlays are necessary when damage has extended over one or more cusps. These metal-free restorations are bonded to the tooth, creating years of functionality.
Smile Creations provides high value dental care to restore and protect your smile. Schedule your appointment at 770.786.2754