SMILE CREATIONS
Rating: 5


Review By Holly L.
My experience at Smile Creations was outstanding. I must say Dr. Carrington and her staff are very friendly, professional, and helpful. So don't hesitate to pay them a visit. I promise you will not regret it!
One of the best methods available to replace missing teeth is dental implants. These tiny posts can make an enormous difference in the final outcome of care, extending beyond what is possible with other forms of tooth replacement. Dr. Carrington is happy to provide implant dentistry to patients of our Covington, Georgia office.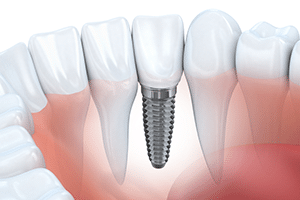 What are dental implants?
We refer to implants as tooth replacements but, technically, these tiny posts are inserted into the jaw to take the place of missing roots. They become a natural part of the jawbone through a process called osseointegration, in which bone fuses around the implant, encasing it for optimal stability. After an implant has become secured in the bone, we can affix a crown or other restoration on top.
Benefits of dental implants
There are good reasons dental implants are considered the best choice for tooth replacement. To date, no other treatment has been able to so closely replicate natural structure. Implants achieve a level of stability one would expect from natural teeth. This is true whether replacement involves one tooth or an entire arch of teeth.
Patients appreciate the level of confidence that they regain after dental implant treatment. There is no worry associated with eating, speaking, or smiling. Restorations that are secured to implants will remain in place, which means they will not rub on the gums or fall out.
Expert care designed around your needs
Dr. Carrington is extensively trained in the use of dental implants. She can help you restore a beautiful smile with an implant and crown, or an implant supported bridge or denture. The procedure performed in our office is guided by CT imaging, which facilitates the precision placement of each implant in a streamlined process.
Patients of Smile Creations may consult with Dr. Carrington about metal-free implants, traditional implant treatment, and about immediate implants after tooth extraction. In most cases, the entire restorative process can be completed without the need for specialty referral.
Dental implant treatment can give you back a smile that you love. To learn more about this conservative treatment, call 770.786.2754.