SMILE CREATIONS
Rating: 5


Review By Isaiah D.
Fast, efficient, professional and courteous team. Great experience!
Historically, dental work left noticeable evidence in the smile. Crowns were once made of metal, fillings were mercury-amalgam, and dentures looked more like plastic than real teeth. Of course, age-old treatments were significantly better than unattractive, painful teeth. However, patients are much more discerning today. Dr. Carrington accommodates the need for natural beauty by restoring teeth with mercury-free, tooth-colored fillings.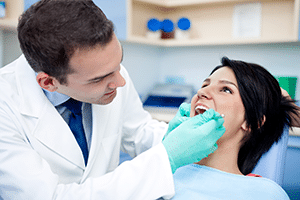 Why mercury-free fillings are popular
Aside from the aesthetic value of a tooth-colored filling, more patients are requesting mercury-free fillings as a way to better protect their smile and their health. Research has brought into question the efficacy and safety of fillings that contain mercury. While ongoing research is necessary to make a final determination about mercury amalgams, Dr. Carrington has chosen to use composite fillings as a durable, beautiful alternative.
Composite fillings contain a mixture of quartz and plastic. Unlike metal, which expands and contracts at a more pronounced rate, composite material moves similarly to enamel. There is little worry that expansion and contraction will cause fractures or weak margins around the restoration. Because composite material is bonded to the tooth, there is minimal reduction required to achieve structural integrity.
Getting a tooth-colored filling at Smile Creations takes just one appointment. However, the process does take a little longer than a standard amalgam filling in order to achieve the ideal shape, color, and proportions necessary for optimal function and a discreet appearance.
Numbing medication is applied to the area
Damaged tooth material is gently removed
Pliable resin material is put into the cavity
The resin is shaped to fit against the opposing tooth
Material is hardened with light
Once composite resin is hardened, it can be trimmed and refined as needed for optimal contouring
The filling is polished to achieve the most natural appearance
Tooth colored fillings made of mercury-free composite resin can last many years. Only you and your dentist will know that you have a filling. For beautiful, durable tooth restoration, call Smile Creations.