SMILE CREATIONS
Rating: 5


Review By Darnell B.
I recently stopped by Smile creations with an agonizing tooth ache. I didn't have an appointment but they squeezed me in as a walk in and provided top notch service. Dr. Carrington and her staff took my pain away and made sure I left satisfied. I will be returning to this office for all my future dental work.
Root canal therapy may be a treatment that most people would like to avoid. At Smile Creations, we work with patients to prevent the extensive damage that leads to deep infection. However, should root canal therapy become necessary, we perform gentle treatment for patients' comfort and peace of mind.
The necessity for root canal therapy
When you look at your teeth, they may seem like solid, hard fixtures. Enamel is one of the hardest substances in the body, however, beneath the hard outer shell are layers of softer, more vulnerable tissue. Once decay penetrates enamel, it can move much more quickly through the soft dentin toward the delicate pulp tissue at the center of the tooth. Infection at the center causes an intense pain response from the nerves. In order to restore comfort, we must remove infected tissue via root canal therapy.
Signs of infection include:
Swelling, tenderness, or pain in the gums around a tooth
Darkening enamel, resulting from injury and tissue death
A persistent or recurring sore on the gums
Intense sensitivity to temperature changes in the mouth
Sensitivity to pressure
Persistent toothache or intense tooth pain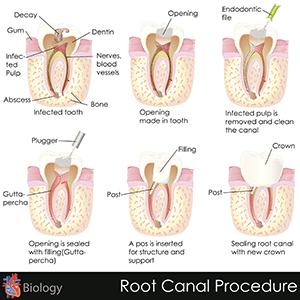 It is important to us that patients understand proposed treatments. This is especially relevant to root canal therapy because many people are anxious about this procedure. There is no reason to fear the root canal procedure. Patients can relieve their anxiety with nitrous oxide or oral conscious sedation. During consultation regarding treatment, we can discuss these options and how they can minimize stress.
Once the tooth has been numbed the same way it is for a filling or other procedure, damaged tooth structure is removed. Access to the inner part of the tooth is made, and infected tissue is removed using the latest tools and ultrasonic techniques. Canals are sterilized, and then sealed with inert material. To restore the tooth, Dr. Carrington places a temporary crown. About ten days after treatment, a final crown will be ready for placement.
Smile Creations cares about your comfort. Schedule early dental care with us by calling 770.786.2754.