SMILE CREATIONS
Rating: 5


Review By Leondra M.
I love this dentist! Everyone was so welcoming and just straight forward about the treatment that I needed. I left the dentist very informed about the procedures and feeling a lot better about the future of my teeth.
Invisalign has been a significant advancement in orthodontic care. In our Covington dental practice, teens and adults can discover just how simple it can be to get a straighter, healthier, more attractive smile.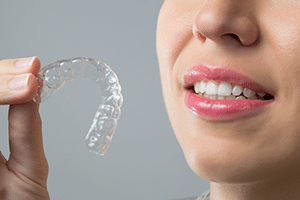 Many people have heard of Invisalign orthodontic treatment. This system has been widely used since the late 90s. Invisalign is a sophisticated process that can correct a number of issues, including overbite, underbite, and more.
The most recognized aspect of Invisalign is the discreet nature of treatment. Rather than metal fixtures, this system relies on clear, plastic aligners to move teeth into proper alignment. Treatment involves the creation of a series of aligners, which look similar to teeth whitening trays or ultra-thin mouth guards. To complete the course of treatment, patients wear each set of aligners for a two-week period. Each set of aligners progresses the desired movement of teeth. To monitor treatment, we schedule periodic assessments.
Because there are no obvious signs of "braces," patients tend to find Invisalign not only more discreet but also more comfortable and convenient. With traditional orthodontics, brackets on teeth can protrude, catching on soft tissues in the mouth or the lips. Because a wire runs through the brackets, patients are advised to avoid foods that could cause damage or become stuck behind the wire. Keeping teeth and gums clean can also be a challenge when brackets and wires are constantly present. With Invisalign, all of these complications are avoided.
Invisalign aligners are removable. This allows patients to maintain their normal eating habits and oral hygiene routines without obstacles getting in the way. Because brushing and flossing remain highly efficient, there is a decreased risk that cavities or gum inflammation will occur during treatment. The fact that aligners can be removed makes it necessary for patients to commit to compliance with their program. If aligners are not worn as directed, 22 hours a day, the duration of treatment may be extended.
Teens and adults in the Covington area can discover the benefits of Invisalign when they visit Dr. Carrington at Smile Creations. Schedule your visit at 770.786.2754.