Nearly everyone would like to smile with confidence, knowing their teeth look straight and attractive. Most would prefer the comfort of a proper bite, and the convenience of evenly-spaced teeth that are easy to keep clean. Yet few people want to wear hardware on their teeth for several years. Teenagers and adults, men and women, in the Covington, GA area are finding out about another option for straight teeth – Invisalign treatment in the care of Dr. Venitress Carrington.
A bit of background
Teeth move through bone remodeling. As pressure is applied to a tooth, it compresses the periodontal ligament on one side. In response, the body sends special cells (osteoclasts) that absorb bone tissue. Simultaneously, osteoblasts are dispensed to the side of the tooth receiving negative pressure. Osteoblasts form additional bone to fill the void, holding the tooth in its new position.
In the past, metal bands were wrapped around teeth and brackets cemented to the fronts or backs of teeth. Wire ran through this hardware (sometimes with the help of headgear), creating the force believed necessary to stimulate bone remodeling.
While conventional orthodontics can still be a good choice for significant bite problems or misalignment, Invisalign technology is changing the way the dental community and our culture at large thinks about straightening teeth.
The process starts with an unhurried consultation with Dr. Carrington. She examines your teeth and listens carefully to learn what you want to change about your smile. If you are a good candidate for Invisalign, and it is an appropriate choice to meet your goals, treatment can begin.
The doctor takes digital impressions of your mouth. A robust computer program, proprietary to Align Technology, uses these high-resolution, three-dimensional, panoramic images to create a personalized treatment plan.
Together, you and Dr. Carrington review a computer-generated visual representation of your smile transformation. When you are satisfied with proposed changes, a series of aligners is fabricated on a 3D printer. You progress through the series, wearing each set for about two weeks. Aligners apply gentle pressure to move teeth into straight alignment.
Clear advantages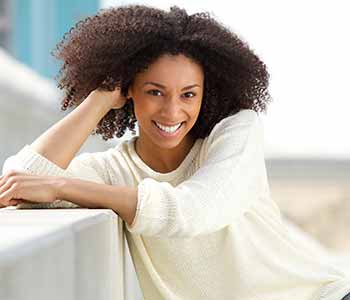 The number one reason patients at Smile Creations prefer Invisalign over braces is appearance. Aligners are made of transparent plastic, so they are barely noticeable, even up close. With Invisalign, your smile looks good while you straighten.
That certainly isn't the only advantage, though. Keep reading for more reasons patients love Invisalign:
You know what results to expect, before you commit to treatment because you see it on a computer monitor.
Adaptation is fast. You can expect to speak clearly and drink water with aligners in place, and learn to insert and remove aligners, in a matter of minutes.
Enjoy the foods you love! Aligners are removable, so there are no dietary restrictions during treatment. Crunchy bagels, chewy steak, and fresh produce stay on your plate.
It is easy to keep your mouth clean and your breath fresh during treatment. Just take aligners out to brush and floss as usual. There is no need to use a water flosser or other special techniques. It takes only a few minutes to clean aligners, as well.
Aligners are comfortable. The smooth plastic won't rub or irritate soft tissues of the mouth. Since there are no aggressive wire-tightening visits, treatment progresses with little discomfort.
Recheck appointments are convenient. Dr. Carrington only needs to see you about every six weeks, and visits are brief.
You don't have to wait until your treatment plan is complete to enjoy the improvement in your smile. It is visible as it occurs!
Invisalign is efficient. With good compliance – wearing aligners every day for 20 to 22 hours – most patients complete the program in about 12 months. However, treatment is highly-customized. Dr. Carrington will explain how long you can expect to be in aligners.
The aligner system is versatile. Initially Invisalign was considered appropriate only for cosmetic improvement. However, the technology has continued to advance. Today, Invisalign corrects even complex misalignment cases as well as many bite problems.

There are many benefits of Invisalign treatment. In Covington, GA, patients trust Dr. Carrington for education on treatment options to help them make the best decisions for their smiles, budgets, and lifestyles. Call Smile Creations at (770) 786-2754  for a consultation to find out if Invisalign is right for you.