Dr. Venitress Carrington is a dentist in Covington, GA who is committed to offering patients solutions for their smiles. If you are interested in cosmetic or restorative work, our dental practice has it all! Many of our patients who are interested in restoring their smiles after tooth loss may want to ask their dentist about the advantages of dentures. Dentures are a treatment option for patients who are missing one or more teeth and can be an economical way to restore function and beauty.
What are dentures?
Our dentist will evaluate patients to determine their candidacy for dentures. Dentures come in a few different varieties, including:
Partial dentures
Full dentures
Implant-supported dentures
All of these can replace missing teeth, but in a different way when compared to alternatives such as dental bridges and dental implants.
Partial dentures – partial dentures are made to snap into the smile and are held in place by existing teeth within the dental arch. These dentures are made with metal and acrylic frameworks. They include false teeth that are secured to the denture and are placed into the dental arch. These restorations are easy to remove, which makes them simple to clean and care for. Partial dentures are a more economical solution compared to dental bridges or implants.
Full dentures – another option for patients to consider is full dentures. These dentures include false teeth and false gums to replace an entire arch of teeth. They are held in place with natural suction or dental adhesives. They are removed at night and can be soaked in denture cleaning solution.
Implant-supported dentures – for patients who have full dentures but want more stability and strength, implant-supported dentures may be ideal. These are full dentures that are made to snap into place over dental implants. This provides them with a foundation that makes them stronger and more stable than dentures held in place with natural suction or adhesives. These dentures are more permanent than traditional full dentures but with better functionality. This type of denture requires patients to have sufficient bone structure of the jaw to ensure the implants are held firmly in place.
Which one is right for me?
Because there are many choices available in terms of dentures and restorative treatments for missing teeth, it is essential that patients book a consultation appointment with Dr. Venitress Carrington to determine the most appropriate solution for one's specific needs. There is no "one size fits all" option that works for every individual, so we need to take the unique situation into consideration when recommending tooth replacement solutions for our patients. We welcome patients in the area to work with our team in deciding what is best for their needs.
What are the advantages of dentures?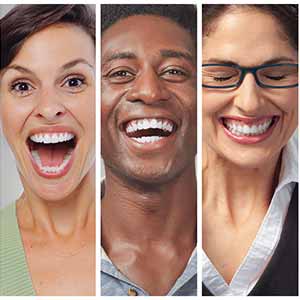 Dentures are:
Economical
Commonly covered in part or in full by dental insurance plans
Easy to care for and keep clean
Long-lasting
Natural-looking
Fully functional
When patients are considering tooth replacement options, our team will often recommend dentures as a solution for patients missing one or more teeth. Dentures are great for replacing missing teeth, and for some men and women, may be a temporary option until they have decided on a more permanent solution such as dental bridges or dental implants. During an evaluation, patients can learn about the various options available to them and get the information they need to make an educated decision for their smile!
Schedule a visit today with Dr. Venitress Carrington
If you reside in the area of Covington, GA and are interested in learning more about the advantages of treatments such as dentures for restoring the smile after tooth loss, Dr. Venitress Carrington welcomes you to connect with her practice, Smile Creations, to allow her and her staff to beautifully create your smile! Call the office to book an appointment at (770) 786-2754 and visit the practice at 3218 Mill Street NE. We encourage patients to look into restorative and cosmetic solutions for their smiles, including our popular dentures treatment.